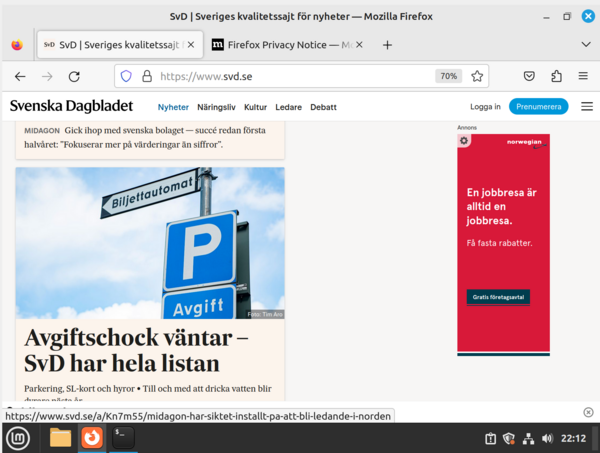 Mint 21.2 Edge installera i en virutellmaskin på vbox. Kommer med Firefox som standard, men kan ganska enkelt installera chrome om man så önskas.
Nyckelfunktionen som skiljer Edge ISO från sitt vanliga syskon är dess antagande av den senaste Linux mainline Kernel. Medan standardutgåvan 21.2 har 5.15 LTS Kernel, tar Edge ISO ett steg framåt med Kernel 6.2. Detta val är en välsignelse för de Linux-entusiaster som längtar efter det senaste och bästa inom Kernel-teknik. Om du skaffar nyare hårdvara och längtar efter det banbrytande kärnstödet, är 21.2 Edge ISO skräddarsydd just för dig.
En annan spännande utveckling i den här utgåvan är återkomsten av Secureboot-stöd. Om du någonsin har stött på problem när du försökte starta eller installera Linux Mint på grund av att din moderna hårdvara inte detekteras ordentligt, kan du ge Edge ISO ett försök för en smidigare upplevelse.
Medan Linux Mint-teamet har testat allt före lanseringen av Edge ISO, är det viktigt att notera att det kanske inte är lika stabilt som de andra ISO:erna i Linux Mint-familjen. Dessutom kanske det inte erbjuder samma nivå av stöd för proprietära drivrutiner. Vi rekommenderar att du bara överväger Edge ISO om du har uttömt alla andra alternativ med standard Mint ISO och fortfarande har problem med hårdvarukompatibilitet.
Linux Mint 21.2 with 5.15 LTS (based on Ubuntu LTS without Snap)
Linux Mint 21.2 with Debian 12
Linux Mint 21.2 with 6.2 Kernel (based on Ubuntu LTS without Snap)
Länka för att ladda hem mint finns som vanligt i vår wiki
https://wiki.linux.se/index.php/MiNT

Linux.se åsikt :
I den virtuella maskin som vi har testat mint 21.2 Edge på har vi bara tilldelat 1 CPU Core och 4 GB., på den konfigurationen känna mint lite långsam.
Artikel ovan är en översättning ifrån