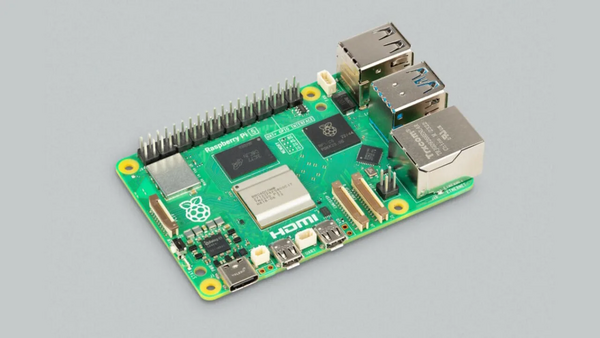 Raspberry PI 5 kommer börja säljas den 23 Okt kommer i 4 GB RAM versioner ca 653:- exkl. moms och 8 GB RAM 900:- exkl. moms.
Funktioner i Pi5 är
2.4GHz quad-core 64-bit Arm Cortex-A76 CPU
VideoCore VII GPU, supporting OpenGL ES 3.1, Vulkan 1.2
Dual 4Kp60 HDMI® display output
4Kp60 HEVC decoder
Dual-band 802.11ac Wi-Fi®
Bluetooth 5.0 / Bluetooth Low Energy (BLE)
High-speed microSD card interface with SDR104 mode support
2 × USB 3.0 ports, supporting simultaneous 5Gbps operation
2 × USB 2.0 ports
Gigabit Ethernet, with PoE+ support (kräver seperat PoE+ HAT, kommer senare )
2 × 4-lane MIPI camera/display transceivers
PCIe 2.0 x1 gränssnitt för snabb kringutrustning
Raspberry Pi standard 40-pin GPIO header
Realtids klocka
Av & På knapp
Tre nya chips, var och en designad specifikt för Raspberry Pi 5-programmet, samlas för att ge en stegvis förändring i prestanda.
BCM2712 är en ny 16-nanometer applikationsprocessor (AP) från Broadcom, härledd från 28-nanometer BCM2711 AP som driver Raspberry Pi 4, med många arkitektoniska förbättringar. Kärnan är en fyrkärnig 64-bitars Arm Cortex-A76-processor, klockad till 2,4 GHz, med 512 KB per kärna L2-cache och en 2 MB delad L3-cache. Cortex-A76 är tre mikroarkitektoniska generationer bortom Cortex-A72 och erbjuder både fler instruktioner per klocka (IPC) och lägre energi per instruktion. Kombinationen av en nyare kärna, en högre klockhastighet och en mindre processgeometri ger en mycket snabbare Raspberry Pi, och en som förbrukar mycket mindre ström för en given arbetsbelastning.
Vår nyare, snabbare CPU kompletteras av en nyare, snabbare GPU: Broadcoms VideoCore VII, utvecklad här i Cambridge, med Mesa-drivrutiner med helt öppen källkod från våra vänner på Igalia. En uppdaterad VideoCore-hårdvaruvideoskalare (HVS) kan driva två samtidiga 4Kp60 HDMI-skärmar, upp från en enda 4Kp60 eller dubbel 4Kp30 på Raspberry Pi 4. En 4Kp60 HEVC-dekoder och en ny Image Sensor Pipeline (ISP), båda utvecklade på Raspberry Pi , avrunda multimediaundersystemet. För att hålla systemet försett med minnesbandbredd har vi ett 32-bitars LPDDR4X SDRAM-undersystem, som körs med 4267MT/s, upp från effektiva 2000MT/s på Raspberry Pi 4.
Designad i Cambridge, tillverkad i Wales
Precis som alla andra Raspberry Pi-produkter, byggs Raspberry Pi 5 på Sony UK Technology Center i Pencoed, södra Wales. Vi har arbetat med Sony sedan lanseringen av den första Raspberry Pi-datorn 2012, och vi är övertygade om fördelarna med att tillverka våra produkter inom några timmars bilresa från vårt tekniska designcenter i Cambridge: ett decennium av frekvent interaktion med Sony-teamet har hjälpt oss att förstå hur man designar produkter som kan byggas tillförlitligt, billigt och i stor skala.
Varje nytt flaggskepp Raspberry Pi-produkt åtföljs av nya tillbehör, och Raspberry Pi 5 är inget undantag. Layoutförändringar, nya gränssnitt och mycket högre toppprestanda (och en mindre ökning av toppströmförbrukning) har fått oss att designa om vissa befintliga tillbehör och att utveckla några helt nya.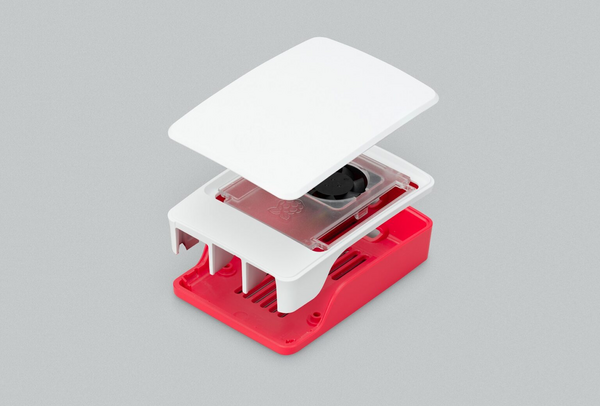 Vi har förlängt höljet och finjusterat retentionsfunktionerna för att göra det möjligt att sätta in Raspberry Pi 5-kortet utan att ta bort SD-kortet. Och genom att ta bort toppen av fodralet är det nu möjligt att stapla flera fodral, såväl som att montera HAT:s ovanpå fläkten, med hjälp av distanser och GPIO header-förlängningar.
Aktiv kylare
Raspberry Pi 5 har designats för att hantera typiska klientarbetsbelastningar, utan hölje, utan aktiv kylning. Användare som vill använda brädan utan hölje under kontinuerlig tung belastning, utan strypning, har möjlighet att lägga till en aktiv kylare för 70 kr exkl. moms.. Denna fästs på kortet via två nya monteringshål och ansluts till samma fyrpoliga JST-kontakt som höljesfläkten.
En radiell fläkt, återigen vald för lågt ljud och förlängd livslängd, trycker luft genom en extruderad och fräst aluminiumkylare. Både höljet och Active Cooler kan hålla Raspberry Pi 5 långt under den termiska gasspjället för typiska omgivande temperaturer och värsta tänkbara belastningar. Kylprestandan hos Active Cooler är något överlägsen, vilket gör den särskilt lämplig för överklockare.
OS som kan köra Raspberry PI . Förutom Raspberry Pi OS som är en version av Debian , kan hämtas här , så finns dessa distrubtioner till Raspberry PI.
Fedora 38
https://wiki.linux.se/index.php/Fedora#Fedora_Workstationen_ARM_aarch_64_systems
Debian
https://wiki.linux.se/index.php/Debian#Raspberry_PI
Ubuntu 23.04
https://cdimage.ubuntu.com/releases/23.04/release/
Mer information på Raspberry PI hemsida